Prius smart key replacement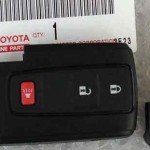 Prius smart key and programming available please call us 949 916-0769 for Toyota/Lexus.  Prius smart key and none smart key programming. Prius smart key/Smart Start allow you to unlock the doors and start the car without having to take the key fob out of your pocket. Prius smart key senses the fob in your pocket; just pull the door handle to open a locked door, and just push the "Power" button on the dashboard to start the car.
If you have the Prius Smart key Fob in your pocket and you walk away from the car while it is running, the car will beep at you a few times, and a yellow warning icon on the dash lights up a picture of a key with an exclamation point over it. But the car keeps running. If the person with the fob stays away from the car, someone else can still get in and drive it since it is still running, but the warning light remains on. While the car is running (in park) it will not let you lock the car doors by pressing the electric door lock button by the arm rest while driver door is open.
It is also not possible to lock the car from the outside be pressing the button on the door handle if you don't have the fob on you. So if you leave the car running, it won't let you lock the driver door and lock yourself out of a running car if you don't have the fob with you. What happens when the battery in the fob dies? Can you start the car? If the fob battery dies, you can still start the car with the fob.
The slot you put the fob in will sense the chip in the fob, even if the fob battery is dead. Your remote entry buttons on the fob won't work, nor will Smart Entry / Smart Start if you have it. But the mechanical key will get you in the car and the fob will start it. I left the fob in the dashboard slot overnight, and now Smart Entry / Smart Start doesn't work. Smart Start/ Smart Entry was disabled because the fob was left in the car (for more than 10 minutes after power off). There is a button to the left and under the steering wheel labeled 'SMART' which controls whether the Smart Start/ Smart Entry system is enabled or not. Push it once to re-activate Smart Start/ Smart Entry. How does the Power button work? The hybrid system will start and stop by pressing the "POWER" switch briefly with the brake pedal depressed. Each time you press the "POWER" switch briefly without the brake pedal depressed, the hybrid system mode changes in the order of "OFF", "ACC", "IG–ON" and then back to "OFF".